Case Study: ESK Care
How ESK Care uses MergeOS to convert more customers and drastically reduce their questionnaire response times from hours to minutes.
ESK Care, an Australian company that makes scientific-based skincare products, had developed an innovative questionnaire to help customers find the products that best matched their skin type. When a customer completed the questionnaire, the team at ESK Care would manually re-enter the answers into a custom spreadsheet model that would determine what evidence-based ingredients were best for their skin and would recommend some products that matched. The model would output the recommended products into an email template that the team would manually send to the customer.


The Problem
The spreadsheet produced great recommendations for their clients, but after a manual pilot of the questionnaire to a select group of VIPs, they realized the process took too long, and customers wanted to receive their personalized responses faster. It could take hours before customers would hear back from the team as they processed each response and manually edited the spreadsheet model. ESK needed something that would give customers the recommendations right after they had completed the questionnaire, while they were still on the website and looking for the right product.


The Solution
The team at ESK Care needed something that would take a customer's answers and automatically merge them into the spreadsheet, generate the recommendations and allow them to view it right away, while also sending it to the customers email address.
We worked with ESK to develop an attractive, branded brochure. Dynamic sections were added to include the recommended products, with links to the online store. The original spreadsheet was used to generate the recommendations, needing only a few small changes to link the cells to the data.
MergeOS now works behind the scenes, generating the brochure automatically every time a customer completes the questionnaire. A link to download the PDF is shown immediately and the file is emailed to the customer. Processing each response is now automatic and customers can see their recommendations immediately.
Update:
ESKCare has now been using the dynamic brochure for more than 12 months and has seen some amazing results. Customers who receive the dynamic brochure convert more often and have a higher chance of becoming return customers.
"Now that we use MergeOS, our customers receive personalized product recommendations almost immediately. Our team can focus on other important work, without needing to worry about formatting emails or manually creating customized product brochures. MergeOS has saved us hours and helps bring in more customers."
– Daniel, Managing Director,
ESKCare.com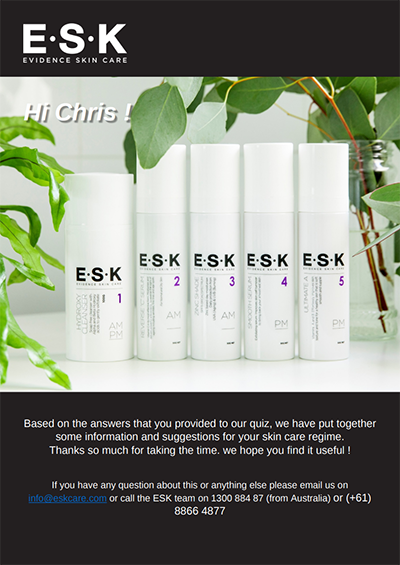 Using MergeOS to create Dynamic Marketing Brochures
We use MergeOS ourselves to generate documents internally and also created our own
dynamic marketing brochure
that customizes itself based on the industry of the recipient. If you're interested in how it works, check out the
video
we made that shows how it was created.